The Keurig K55/K-Classic Coffee Maker is the most popular single cup coffee maker on the market and with good reason. Since 1972 when the first new style of coffee makers hit the scene, people have wanted a brewer that would make just one cup of freshly brewed coffee within minutes.
Another great Keurig favorite is the K550 Coffee Maker that would allow you to make 4 cups at a time as it has an 80-ounce reservoir.
It is currently unavailable but hopefully will be back on the market soon and I will do a review for everyone then. There is an alternative, so continue on with the keurig k55 review below for now.
What Comes in The Box with The Keurig K55?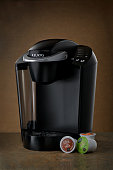 So, what do you get with this product when you purchase it? You will get the Coffee Maker that will brew you one cup of morning joe in minutes, 4-k-cup pods with a great blend of coffee.
Also, there is a water filter handle and 2 water filters. We all know that good pure water makes a better tasting cup of coffee.
The Unit itself is a striking black color with a silver handle that you lift up and down as you insert the k-cups in the space provided. When you put the handle back down, the k-cup is pierced and ready for some hot water.
The water reservoir is made of clear hard plastic with a removable lid for filling. It has two tabs on the back where it attaches to the coffee brewer. To prevent any damage to the reservoir, always LIFT-UP, as you remove it to protect the tabs.
The reservoir holds 48 ounces of water and you don't have to guess how much you are putting in as there is a line that shows you the proper filling amount.
Whether you live in the city or out in the country, there are substances in our water that will affect the way our coffee tastes.  I suggest that you purchase purified water for your brewer.
You will not only get a better tasting cup of coffee, but it will extent the life of your Keurig K55 brewing machine.
How the Keurig K-55/K-classic Makes A Single Cup
The first thing you want to do of course, is plug the coffee brewer into a 110 outlet. The cord is not extremely long so decide where you want it to live. Remove and fill the 48-ounce reservoir with your purified water to the demarcation line and attach it back to your brewer.
When you hit the power button, enough water for a cup will run from the reservoir to the brewer and you will hear the water heating process begin.
When the water is hot enough, the three selections on the top right of the coffee maker will light up and you will have a choice of which size of cup you want to brew.
Next, lift the silver handle to expose the k-cup insertion space. Without doing anything to the k-cup of your choice, place it in the round fitting provided and put the handle down. Set your favorite coffee mug on the tray under the coffee dispenser.
By now you have decided how big a cup of coffee that you want, and the cup size indicators are flashing. Push your desired amount button and just let it happen. I usually go for the 8-ounce size and it takes 25 seconds for my coffee to brew.
Your coffee maker will be able to make a 6, 8, or 10-ounce cup of coffee or you can make 6, 8-ounce cups, one right after the other. If you like your coffee real bold and strong, brew it as a 6-ounce cup and if you like it mild strength, use the 10-ounce setting.
Available Brands of Coffee with K-Cups
Since the Keurig is the front runner in single cup coffee brewers, there are different flavors of coffee and other drinks in the little K-cups that will fit right into the Keurig brewer.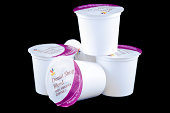 It is said that there are about 70 different brands and hundreds of varieties, I'm  sure you will have more that one favorite in the weeks to come. Some of the brands used are such names as Donut Shop, Gevalia, Caribou, Peets, Revv, Dunkin Donuts, Green Mountain and many more.
For Christmas, my niece gave me a box of k-cups with Campbells Chicken Noodle soup. The k-cup had the broth, which you brewed, and a packet of thin noodles that you added to the broth. It was my main drink when I got the flu a week later.
Another great feature with the K55 is the fact that you can buy reusable k-cups. If you are a person that likes freshly ground coffee beans, you can put your own coffee in the reusable cup and instantly brew a cup of your favorite grind.
More and more people are finding out how easy it is to grind their own beans to make an unforgettable cup of FRESH coffee. There are as many coffee grinders on the market as there are coffee makers. If that is something that interests you, please read the coffee grinder buying guide on this site.
Conclusion in Keurig K55 Review
To sum up this keurig k55 review, if you are looking for a coffee maker that will make you one cup of freshly brewed coffee in just seconds, look no farther. This is an attractive looking unit and has a reservoir that hold 48 ounces of water so you can make make 6 cup of coffee throughout the day or just get your all important cup of the day  and you're out the door.
These coffee makers are made for our fast paced life, and they are certainly easy and fast to use. This model from Keurig comes with 4 k-pods so you can try them out and then decide on a flavor that will please your taste buds. There are several choices of colors to choose from.
I have owned my Keurig for two years now and if it ever dies, you bet I will get another one within minutes. I am 100% positive that you will love the Keurig K55/K-Classic Single Cup Coffee Maker, don't wait another day, purchase one for your home and one for your office. Thank you for reading our keurig k55 review.